Photographers are usually very concerned and focused when doing their job, and especially in space photography, the job is very demanding! It requires constant attention, proper safety measures, and cautiousness. But then there are some events that lead the photographers stunned and amused. The same thing happened a few days ago when a NASA Space flight photojournalist named, Nic Ansuini, captured a hilarious yet worth seeing sight on the topmost corner of the Starship prototype. It was actually a "neutral-faced emoji" that is welded on this rocket, more like an angry face. However, it was something that was not done intentionally but was a cute coincidence. Seems funny, right?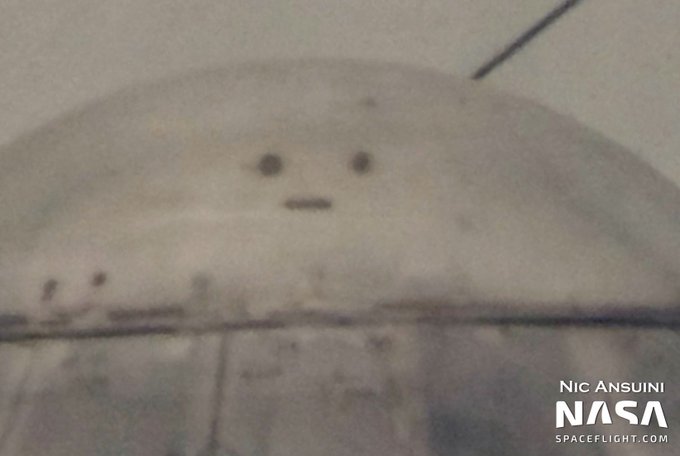 NASA's space flight photojournalist, Nic Ansuini, has related this facial reaction on the spaceship to the conflict between Elon Musk and FAA (Federal Aviation Administration) when in 2021, Musk was not happy with the last-minute launch of the Spac X rocket to which he was irritated and said abruptly; "Unlike its aviation sector, which is OK, the FAA's space division has a fundamentally dysfunctional regulatory framework,". "Their guidelines are intended for a few throwaway launches each year from a few government installations," he continued. "Under those conditions, humanity will never reach Mars." Such things kept on happening and the SpaceX is in highlights for not paying attention to the government rules and regulations, thereby posing a threat to the environment. For those reasons, Musk has always been anxious about SpaceX.
There was also an event when despite the warnings of the FAA, SpaceX relied on launching its rocket which resulted in its huge explosion. This happened due to the negligence of SpaceX towards the FAA warning. Had it lent its ears to FAA, the explosion could have been prevented. "These activities demonstrate a disturbing lack of operational control and procedural discipline that is inconsistent with a strong safety culture," Monteith wrote in a letter to SpaceX president Shotwell.
Thus, keeping all these details in consideration, the face that is welded onto this spaceship gives a funny look but behind the scenes, maybe SpaceX is trying to give a look like it is hoping to be environmentally approved and cleared by the FAA.