Hennessey Performance has developed a 'Special Vehicles' department that will free their engineers from the shackles of modified customer vehicles and now they will build cars from the ground up. These cars will be like the 1,817-horsepower Venom F5 hypercar which was aimed to be the first street-legal car to officially break the 300 mph barrier.
The mastermind behind these projects, John Hennessey of Texas, hasn't worked with electric cars yet as he thinks the batteries make the car slower. However, he realizes that he needs to adapt to the changes to stay relevant.
Hence, for his first electric car, he's going to make Project Deep Space that will be the first of its kind.
It is going to have unique specifications and designs. It will be a 20-foot (6 m) long, six-wheel-drive, 2400-horsepower electric hyper GT car. It is also going to cost a whopping US$3 million per unit.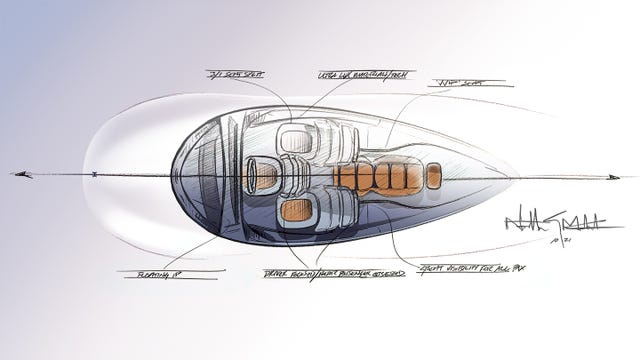 The team aims to make it the fastest four-seater ever from 0-200 mph (0-322 km/h). "I've been building some of the world's fastest accelerating vehicles for decades," says Hennessey, "yet they have always been performance-limited by the mechanical grip. Six-wheeled electric propulsion is the solution."
The car will have a diamond cabin layout: driver front and center with two passenger seats behind and to the sides, as they are in the Gordon Murray T.50. However, for this, there will be space for one more seat at the back.
He has called it the "mother-in-law" seat as it is the least appealing seat in the vehicle. However, the HSV Design Director, Nathan Malinick flipped the situation by calling it the VVIP seat.
Malinick further stated that this seat is not the worst seat, in fact, it is the best one. It will be able to extend back for sleeping. Not every seat will have this luxury of opting out of the front seats' discussion. There will be only one door. It will be a whopper that will give access to all three rows.
The car will have a huge battery pack and an impressive range of 400-horsepower motors on each of the six wheels.
There is still a lot to be done as only a set of sketches has been released today. The vehicle will not be seen till 2026, tentatively.