The concept of business jets came just a few decades back in the aviation industry due to its demand for luxurious flights and flexibility in time. This sector in the aviation industry is booming nowadays as new models have been developed to promote this technologically sophisticated paradigm in the market. To carry forward with this legacy, a contemporary business jet named "Global 8000" has just been introduced into the market by Bombardier, renowned for its luxurious cabin services and speed parameters. The most important thing to consider is that this will be the first-ever "business jet" to achieve a supersonic speed of Mach 1.015, along with the NASA F/A-18 chase plane. Due to this unique characteristic, this is regarded as the world's fastest business jet.
The aircraft can accommodate about 19 passengers in the cabin, along with advanced and luxurious service quality. Due to its fastest speed and longer cruising range, it has made a name for itself in the market, which resulted in the immediate increase of its sales to a whopping amount. Just after the relaxation of COVID restrictions, it has seen a rise of about 20% in its sales quantity.
Now coming to the design parameters, manufacturers have made this aircraft structurally stable by considering its speed limits. The control and stability along the wingspan (i.e., 104 ft for Global 8000) during the phase of achieving supersonic speeds is of utmost importance and this is what this aircraft is manufactured in accordance with. Moreover, GE (General Electric) Passport Engines have been used, which can provide a thrust of about 18,920 Ib with a flight ceiling of 51,000 ft.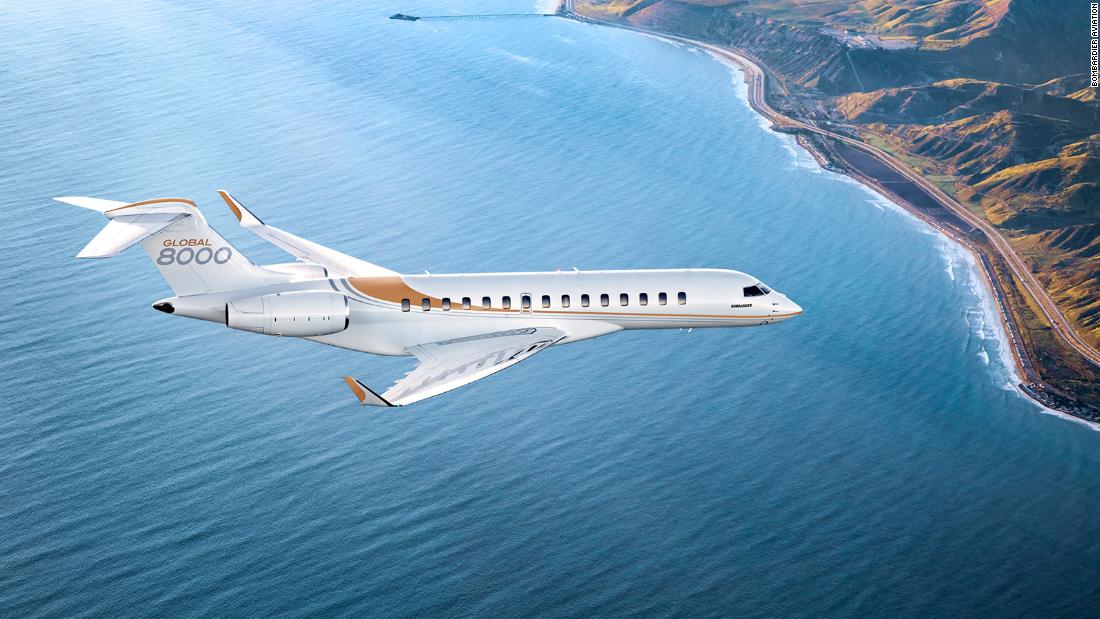 Bombardier's President and Chief Executive Officer, said, "Today, Bombardier solidifies once more its position as the leader in business aviation with the newest member of the industry-leading Global family. The Global 8000 aircraft leverages the outstanding attributes of the Global 7500 aircraft, providing our customers with a flagship aircraft of a new era. We remain unmatched, which is great for an innovation-focused team like us."
Speaking of its in-flight services, the interior cabin has been split into four sections, which resemble a living room. The cockpit consists of contemporary flight instruments, including four large displays that show the current and timely performance characteristics of flight. Similarly, the aircraft is equipped with a "Head-up display (HUD), Enhanced Vision System (EVS), Synthetic Vision System (SVS), graphical flight planning, multi-Scan weather radar, and Performance-Based Navigation (PBN)" to gather accurate and precise data in order to conduct a smooth flight.
To mitigate the effect of jet lag, red and blue LEDs are deployed in the cabin, along with a full-sized bed and a shower. For long-haul flights, a private cabin crew is also available to assist them. The fastest internet is also provided so that the business meetings or deals of passengers can be conducted smoothly. Thus, the cabin is topped up with a wide range of amenities, which makes this jet attractive for the customers as well as the passengers. However, passengers have to wait till 2025 to experience the most luxurious and fastest flight before it becomes commercially available.