With the rise in electric vehicles production in the automobile industry and the increased demand for these sustainable vehicles, governments and authorities along with bigger companies are investing to facilitate the smooth execution and operation of these electric vehicles. There is a need for better roads, infrastructure, and facilities like charging stations if the transition towards electric vehicles is expected to go without any obstructions.
Owing to this explanation, Tesla will be opening its charging station in Europe soon. This charging station will be open to cars other than Tesla's as well. This is the special feature of this station. The charging station will be made available to all the vehicles belonging to all the companies by next month.
This is being called the Super Charger Network and Europe is deemed to be the ideal place for its initiation. Research and analysis conducted in May 2021 exhibited that the pace of EV charging points increased in correlation to EV sales in 29 European countries. This gave insight into the future prospects of these open charging stations for Tesla.
"It is interesting to see that most of the lines become gradually flatter, which means that in the first years the increase of EV charging points is larger than the increase of EV sales, while in the last years the opposite happens," explained the analysts, referring to the chart below.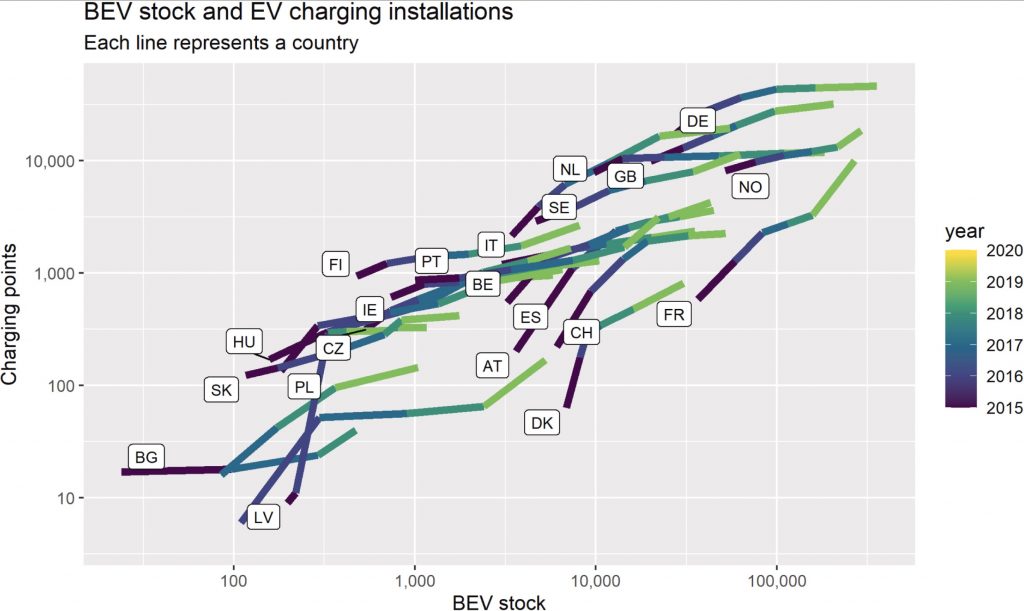 Norway and Germany appear to be the best sites for this project. In addition, almost 200,000 EVs were sold in Germany last year. After Germany came to France with 111,000 BEVs and then the UK, which sold 108,000 BEVs last year.
There is an application that must be downloaded from the non-Tesla drivers in order for them to be able to use the facility. However, Tesla users do not need the Tesla App to access the Supercharger.