Russia's sole operational unit of BMP-T Terminator tank support vehicles has most likely been sent to the Donbas offensive's Sievierodonetsk axis, according to British intelligence.
In the Donetsk area, Sloviansk is vital to Russia's goal of seizing all of eastern Ukraine and was the site of brutal combat last month when Moscow's soldiers decided to withdraw from Kyiv.
"Their presence suggests that the Central Grouping of Forces (CGF) is involved in this attack, which is the only formation fielding this vehicle. CGF previously suffered heavy losses while failing to break through to eastern Kyiv in the first phase of the invasion," the British Ministry of Defence posted on Twitter.
Russia designed Terminator after recognising the need for specific protection for the main battle tanks it utilised throughout the Afghan and Chechen wars.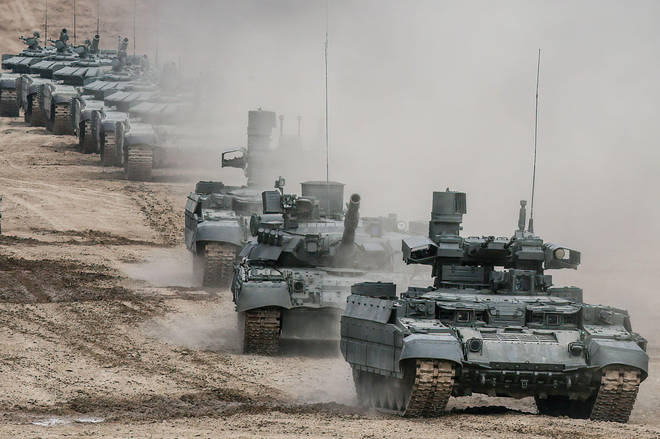 Sievierodonetsk is the main city under Ukrainian power in the Luhansk area, which, along with the Donetsk region, makes up the Donbas. The city's only operable hospital, according to Governor Serhii Haidai, has only three doctors and supplies for ten days.
According to the governor, the Russian bombardment killed seven civilians and injured ten more across the region on Saturday.
It should be noted that the Sievierodonetsk region remains one of Russia's immediate tactical priorities. However, with only ten Terminators available for deployment, they are unlikely to impact the campaign significantly.
Uncertainties are also growing about Ukrainian fighters who surrendered to Moscow at the end of a horrific three-month standoff in Mariupol, despite a Russian-backed separatist leader's promise to face trials.
Russia has taken full control of the Azovstal steel mill, a symbol of Ukrainian resilience in the port city, which is now in ashes, and more than 20,000 citizens are believed to be dead. Its seizure gives Russian President Vladimir Putin a much-needed win in the conflict he started in February.
After reporting that its forces had evicted the final holdouts from the steel plant's miles of underground tunnels, Russia's defence ministry released video footage of detained Ukrainian soldiers.
Family members of the troops, who came from various military and law enforcement groups, have asked for their release as prisoners of war and eventual return to Ukraine.
On Saturday, Deputy Prime Minister Iryna Vereshchuk stated that Ukraine "would fight for the return" of all.
On Friday, convoys of buses were escorted out of the factory by Russian armoured vehicles. Russian authorities stated that some Ukrainians were transferred to an old prison colony, while others were hospitalised.
The Ukrainian government has not responded to Russia's claim of taking Azovstal, which had been the last holdout of Ukrainian resistance in Mariupol for weeks.