The United States Marine Corps and Japan's Maritime Self Defense Force just relaunched Japan's carrier aviation program.
The Japanese aircraft carrier Izumo and American F-35B fighter jets marked the first time Japan has operated an aircraft carrier since 1945. After World War II, it is Japan's effort in reclaiming its space in this arena.
The flight was operated in the Pacific Ocean on October 3. Two F-35B Joint Strike Fighters operating from Marine Corps Air Station Iwakuni took off from mainland Japan, refueled in midair, and then landed on the ship JS Izumo. The F-35Bs landed vertically on Izumo's flight deck and then performed a rolling takeoff.
Earlier in 1941, Japan had the largest carrier force in the world, and it depended tremendously on the navy to operate aircraft from their ships. The Imperial Japanese Navy built the world's first purpose-built aircraft carrier, Hosho, in 1922.
After four years, the country had all its resources destroyed and left it decades back from the progress it had made. After the war, Japan's new pacifist-minded democratic government banned aircraft carriers as tools of offensive warfare. Thus US Navy built on the concepts of the Japanese navy and became world dominant.
Japan rekindled its passion for the navy after China made some breakthroughs in the area. The successor to the Imperial Navy, the Maritime Self Defense Forces, built two large warships in the early 2010s. Izumo and her sister ship Kaga were categorized as "helicopter destroyers" but comprised full-length flight decks, an island for overseeing flight operations, and elevators capable of ferrying an F-35B from the hangar to the flight deck. In 2018 Tokyo approved plans to convert both ships to an aircraft carrier configuration.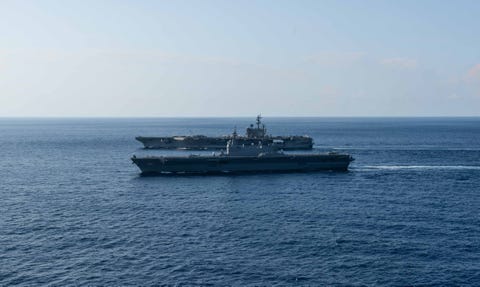 Japan has ordered 42 F-35Bs from the US but the Japanese pilots are not skilled enough to handle vertical landing operations. The Marine Corps, however, operates two F-35B squadrons at Marine Corps Air Station Iwakuni, on the Japanese mainland just south of Hiroshima. Hence, both the countries collaborated to train Japanese pilots. The exercise turned out to be successful. U.S. Marines were able to prove that they can work from foreign carriers and Japan got a lot ahead in its progress on these operations.