Hitachi Rail has successfully launched its battery-powered Masaccio trains in Italy as part of a 1.23-billion-euro agreement with Trenitalia. The fleet of 20 trains, branded as 'Blues,' covers various regions across the country.
European countries have pledged to reduce transport emissions by up to 55 percent by the end of the decade. However, el[ectrifying the entire train network is challenging due to geographical obstacles and reliance on diesel power. Battery-powered trains offer a solution by reducing emissions without the need for extensive electrification.
The battery-powered trains can operate on electrified and non-electrified lines. On electrified tracks, the train uses a pantograph to connect to powerlines and acquire electricity for running and recharging its batteries. In areas without electrification, the train combines diesel and battery power. As it approaches stations and populated areas, it switches to battery power to eliminate harmful emissions.
This marks the first time that battery packs serve as the primary power source for an entire train journey. Currently, the battery pack provides a range of up to 10 miles (15 km) and can be recharged using the diesel engine and regenerative braking.
The Masaccio trains are manufactured at Hitachi's Rail factory in Pistoria and are currently operating on popular routes along the Ionian coast in Sicily, Sardinia, and Lazio.
Each train can accommodate up to 300 passengers and can be modified for commuters or leisure travelers, with storage space for luggage, bicycles, snowboards, and mountain bikes. The trains adhere to the European Rail Traffic Management System (ERTMS) digital signaling standard and have a maximum speed of 100 miles (160 km) per hour.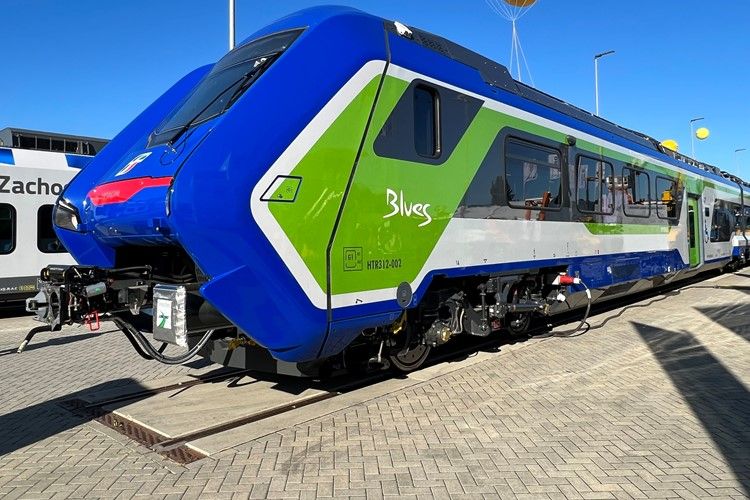 The trains are equipped with a Driver Advisory System (DAS) that suggests optimal speeds to minimize energy consumption and ensure punctuality. Hitachi aims to improve its battery technology in the coming years, expecting a range of over 62 miles (100 km) in future trains. Existing trains will also be retrofitted with newer batteries.
The construction of the trains incorporates 93 percent recycled materials, contributing to sustainable travel practices.