There are certain online videos that will end up leaving you stunned. One of those videos is this one, which was shot in central Texas last Monday. It appears to be a red first-generation Chevy Silverado pickup vehicle being flung around it and hauled over the ground by a tornado, with only one person inside. But that's not the most bizarre aspect. After the storm has passed and the truck has been thrown upright, it calmly drives away as if nothing had occurred.
Since last Monday, tornadoes had been wreaking havoc on the Austin region. According to the Weather Channel, at least one person has been killed by the storm, and substantial damage has already been done to houses in its path. WFAA, a local TV station, provided overhead photographs of some of the damage tornadoes have inflicted in the region thus far. Let the footage of the red truck serve as a warning of why we should avoid driving if we don't really have to with the potential of adverse weather:
As per the sources, a storm chaser who posted the footage on Twitter and YouTube on Tuesday occurred on a four-lane highway near Elgin, Texas. The Chevy is trapped in the tornado and is exposed to the complete capability of the storm's winds, causing the engine to flip onto its driver's side door. It spins 360 degrees while transverse to the road before being driven back erect by the tornado's gusts. Notwithstanding what must have been the biggest shock of their lives, the driver continues down the street. According to the impressions, the vehicle appeared to be reasonably unscathed after the incident, save for some significant scrapes on the driver's side chassis and a broken side-view mirror.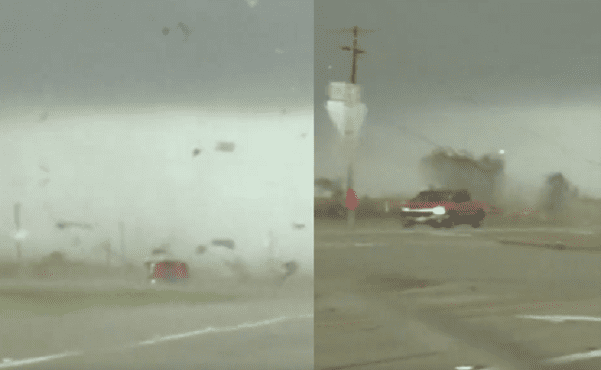 "When my car fell back on my tires, my hands dropped on my lap, and I saw it all and thought, likely nothing occurred," Leon explained. The Elgin tornado was an EF-2 tornado with speeds of 130 mph and a 14-mile track length, as per a quick assessment issued by the National Weather Service. The storms demolished houses and damaged several other buildings, hospitalizing at least ten people and killing one, according to reports.