A Spanish Air Force pilot injured himself after ejecting from his EF-18 Hornet fighter jet before it crashed at Zaragoza Air Base.
The aircraft crashed within the perimeter of the base, which is about 10 miles (16 kilometers) outside the city and belongs to the Spanish Air and Space Force.
A video shows the jet climbing steeply, then suddenly diving towards the ground after a short level flight. There was a sharp change in the throttle during the dive that can be heard in the video during the pitch-over maneuver. Just before the jet crashed into the ground and caused a big fireball, the pilot ejected. The pilot injured his legs due to ejecting at a low altitude, according to Spain's Civil Guard reported by the Associated Press.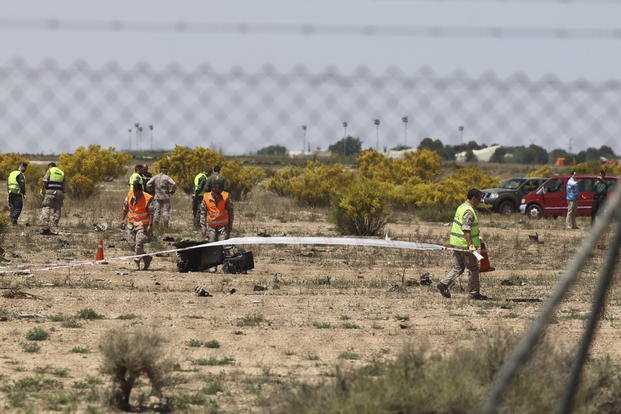 The Guardia Civil said it will, along with the military, investigate the crash and also said that initial information provided by the pilot was that the plane had apparently suffered a malfunction.
Several hours after the crash, the air force said that the pilot was "recovering favorably" but would remain in the hospital under observation for "a few days."
The EF-18 was practicing for an airshow when the accident happened, as reported by the Spanish news agency EFE. The Spanish Air and Space Force confirmed in a tweet that the crashed jet belonged to the 15th Wing's fleet, which has many Hornets at Zaragoza. Spain is replacing its Hornet fleet, designated "EF-18" for "España," with Eurofighter Typhoons, but the transition will take until the end of the decade.