A Devon public swimming pool is being heated by the heat produced by a data centre the size of a washing machine. The heat generated by the computers inside the data centre is captured by surrounding them with oil.
This process provides enough heat to maintain the pool temperature at around 30C for 60% of the time, resulting in thousands of pounds in savings for Exmouth Leisure Centre.
The data centre is made available to the council-run centre free of charge, and it is provided by start-up Deep Green, which charges clients to use its computing power for artificial intelligence and machine learning.
The founder of the company, Mark Bjornsgaard, has also promised to refund the leisure centre's electricity costs for operating the "digital boiler." Moreover, seven other swimming pools in England have already joined the initiative.
The concept is relatively straightforward, having been developed over five years. The hot oil is pumped into a heat exchanger, which, in turn, warms the water in the pool.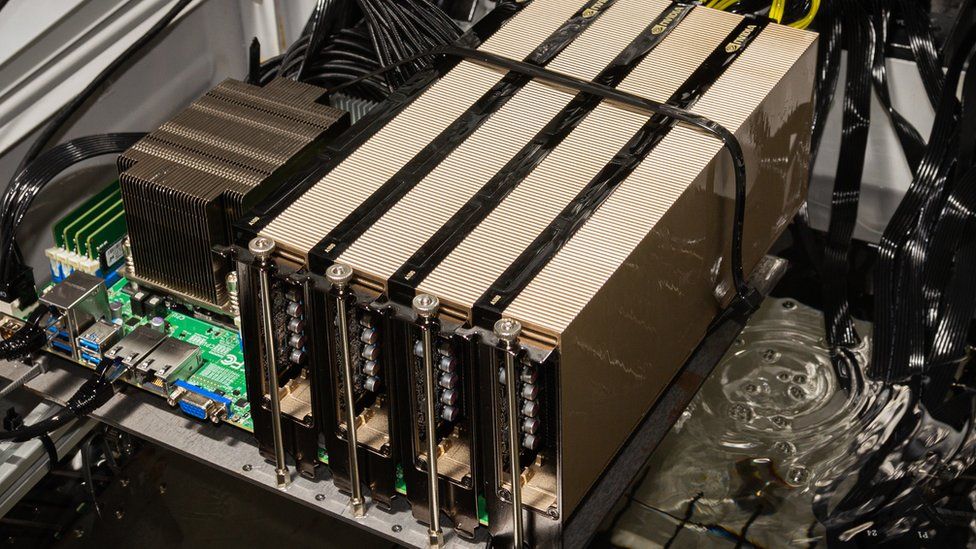 Sean Day, who runs the leisure centre, said he had been expecting its energy bills to rise by £100,000 this year.
"The partnership has really helped us reduce the costs of what has been astronomical over the last 12 months – our energy prices and gas prices have gone through the roof," he said. "Looking at different ways of how we can save money as an organisation has been awesome."
Swim England chief executive Jane Nickerson said it was good to see pools "embracing innovative solutions". Last summer, BBC News revealed 65 swimming pools had closed since 2019, with rising energy costs cited as a significant reason.
According to Dr Julian Allwood, a professor of engineering and the environment at Cambridge University, using the heat generated by data centres to heat public swimming pools is a sensible idea that can save money. He also mentioned that data centres consume less energy than previously estimated.
However, large data centres can still require enormous amounts of water and money to keep them cool. In some cases, they are built underwater, in caves, or in very cold locations. In cities in Denmark and Sweden, massive data centres are used to power thousands of homes.
"Data centres have got a huge problem with heat," Mr Bjornsgaard said. "A lot of the money that it costs to run a data centre is taken up in getting rid of the heat. And so what we've done is taken a very small bit of a data centre to where the heat is useful and required."