With the Shenzhen skyline as a backdrop, this is an area for sports and relaxation. With its 'sky park' idea, Crossboundaries has achieved just that. According to Design Boom, the worldwide company has turned the roof of a metro terminus and maintenance facility in Shenzhen, China, into a 1.2-kilometer public park featuring a variety of outdoor recreational amenities.
The Shenzhen Skypark project repurposes the top of Shenzhen's Metro Line 2's terminus and depot building, which connects to a significant crossing point and nearby Hong Kong.
The Shenzhen Skypark is housed on a roof that rises 15 meters (approximately 50 feet) above the ground and spans 70 meters (230 feet) at its widest point and 50 meters (165 feet) at its narrowest point, with a total surface area of 7.3 hectares (18 acres).
As a way of giving back to the community, the park connects to buildings on its west side via a series of'skybridges,' bringing students and sports enthusiasts together on a platform designed specifically for them – bringing educational institutions and the local community together in a unique combination of sports and recreational offers, all tied together with the landscape.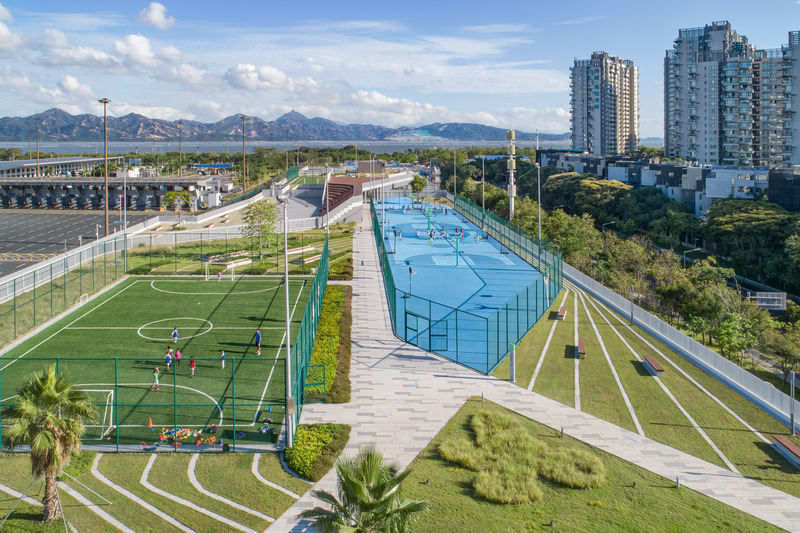 Speaking to Design Boom, co-founder and partner at Crossboundaries Hao dong said, 'we were confronted with very exceptional circumstances. in china, infrastructure and traffic-related areas usually belong to the government and are not meant to be assigned any public use at all. this elongated rooftop presented itself with huge potential to be transformed into a usable park, accessible to a wider public and enriching the urban environment around it.'
The park's layout accommodates three distinct user groups: the general public, nearby schools, and sports professionals. The area is densely packed with sporting facilities, ranging from basketball courts and 5-a-side football pitches to professional-level tennis courts with spectator stands.
A separate promenade for the general public runs the length of the park, with certain sections elevated to provide a better view. People who are simply looking for a relaxing stroll can do so without interfering with the high-energy activities taking on indoors.