Aidan Meller, an expert in current and contemporary art, created an extremely realistic robot dubbed Ai-Da, which is regarded as the world's first ultra-realistic humanoid robot artist.
Art and poetry aren't usually associated with AI, but that's exactly what Ai-Da, a highly realistic robot created by Aidan Meller in Oxford, Central England, spends her time doing- Reported CNN. Ai-Da, the world's first ultra-realistic humanoid robot artist, performed lyrics she produced using her algorithms in honor of the famous Italian poet Dante on Friday.
The recital took place in the University of Oxford's famed Ashmolean Museum as part of an exhibition commemorating Dante's 700th birthday. Ai-poetry Da's was inspired by Dante's epic "Divine Comedy," which she read in its entirety, allowing her to apply her algorithms to be inspired by Dante.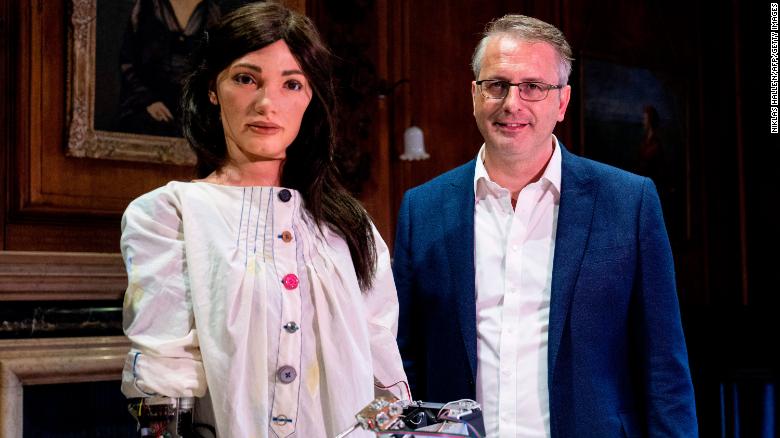 Ai-Da was developed for fiction and poetry, and she performed a performance on Friday at the famed Ashmolean Museum at the University of Oxford. She delivered a public performance of poetry she wrote using her algorithms to commemorate the 700th anniversary of the great Italian poet Dante's death.
Meller regarded Ai-poetry Da's as "very passionate," and it includes the following verse:
"We looked up from our verses like blindfolded captives,
Sent out to seek the light, but it never came
A needle and thread would be necessary
For the completion of the picture.
To view the poor creatures, who were in misery,
That of a hawk, eyes sewn shut."
In a conversation, Meller told CNN that: "The Ai-Da project was developed to address the debate over the ethics of further developing AI to imitate humans and human behavior,". As Ai-Da has learned to copy people based on their activities, Meller believes the experiment has revealed how habitual humans are, and how we prefer to repeat acts, words, and patterns of behavior – implying that we, not robots, are the ones who are robotic.
Meller is also aware of concerns about the increasingly advanced development of artificial intelligence and the potential for using algorithms to manipulate populations, but he believes that "technology on its own is benign" and that "those who control it whose intentions could be morally and ethically questionable."