A self-driving, fully-electric commercial passenger ferry has been launched in Stockholm. The ferry is set to carry 25 people and will operate between Kungsholmen and Søder Mellarstrand in Stockholm. It will continuously run on electricity for 15 hours daily.
This vessel is part of a project aimed at creating more sustainable urban mobility and attracting international interest due to its green profile and Stockholm has become the first country to successfully bring it to life.
The autonomous system for the ferry has been provided by a Norwegian technology company, Zeabuz, which was created at the Norwegian University of Science and Technology (NTNU) in Trondheim.
"Many large cities around the world have problems with congestion, lack of capacity and environmental and air pollution. Self-driving technology will be part of the solution and will be good for both the climate and people," said Reidun Svarva, Chief Business Development Officer at Torghatten. "Instead of being barriers, the water surfaces will sew the city together and become a shortcut for all Stockholmers, he continued.
"With autonomy, we can get operating costs low enough to make the ferry commercially profitable, and we can offer a departure frequency that is adapted to market needs. It means a green transport revolution at sea, and Stockholm is the first place in the world where this is now being tested," added Svarva.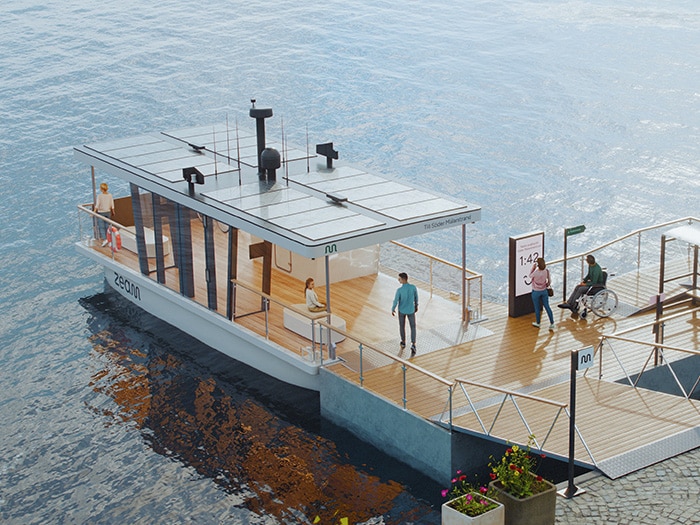 The company has left no room for error in the safety department. A control room has been provided which will monitor the whole trip while a crew led by a captain will guide it. The boat has a crew of one person in addition to a control room on land.
The ferry has an open, covered passenger deck with boarding and disembarking at both ends and is 12 meters long. Built by the Brødrene Aa Shipyardwhich, which goes back to 1947, has created novel building methods and constructed energy-efficient carbon fiber vessels.
"This is a very exciting project for us where we combine the technological expertise and experience we have with building energy-efficient speedboats, and get to combine it with the autonomous technical solutions of the future," said Tor Øyvin Aa, general manager of Brødrene Aa, and continued, "We see great future possibilities for this type of vessel, at a time when more and more cities are looking at better utilization of the waterways as a means of transport."
"We have learned a lot from our project in Trondheim, and now we are ready to take the next step in creating the world's first commercial autonomous city ferry. The technology will largely be the same, but in Stockholm we will seriously test the autonomy system in daily operation with passengers in a way that no one has done before. This will be incredibly exciting," said CEO of Zeabuz, Erik Dyrkoren.
The vessel has received international recognition since almost all waterways are underutilized due to extensive emissions and high operating costs. It also eliminates problems such as congestion, lack of capacity, and environmental pollution.