Photographers of faraway galaxies, planets, and moons from Earth frequently generate magnificent photographs. Last week, though, Dr. Sebastain Voltmer recorded something distinctly new, yet stunning. He captured images of the International Space Station (ISS) as astronauts Matthias Maurer and Raja Chari were completing a spacewalk outside. This might be the first ground-based photograph of two astronauts undertaking a space mission at the very same time. The image was captured on March 23 at Sankt Wendel, Germany. Maurer is from there, and he works for the European Space Agency (ESA). The space mission was Maurer's first, and he and NASA's Chari labored on a variety of activities, including repairing an external camera, putting a new power cord on the Columbus module, and changing pipes on a radiator beam control device. This final one is critical to the mechanism that maintains the space station's temperature.
The spacewalk excursion, which spanned six hours and 54 minutes in all, was undoubtedly interesting for Maurer, who first had problems with his camera and lighting. He had some water pooling in his helmet as well. Maurer has never been in danger, but as these two astronauts illustrate, water in the helmet may be quite deadly. "I took this photograph of the ISS flyby on March 23, 2022, with my C11 Edge HD telescope from the birthplace of ESA astronaut Dr. Matthias Maurer," Voltmer said. The docking SpaceX Dragon spacecraft, with which the astronauts of Crew-3 traveled to the ISS, is also plainly visible, according to the Astrophotographer. He stated that he encountered Maurer three years ago at Space Studio in Nohfelden, Germany, which is close to Matthias' hometown. Voltmer stated on Twitter that Maurer was "ascending" at the time he watched the spacewalk. The Astrophotographer further stated that the robot arm is Canadarm2, the rod-shaped object visible in the image.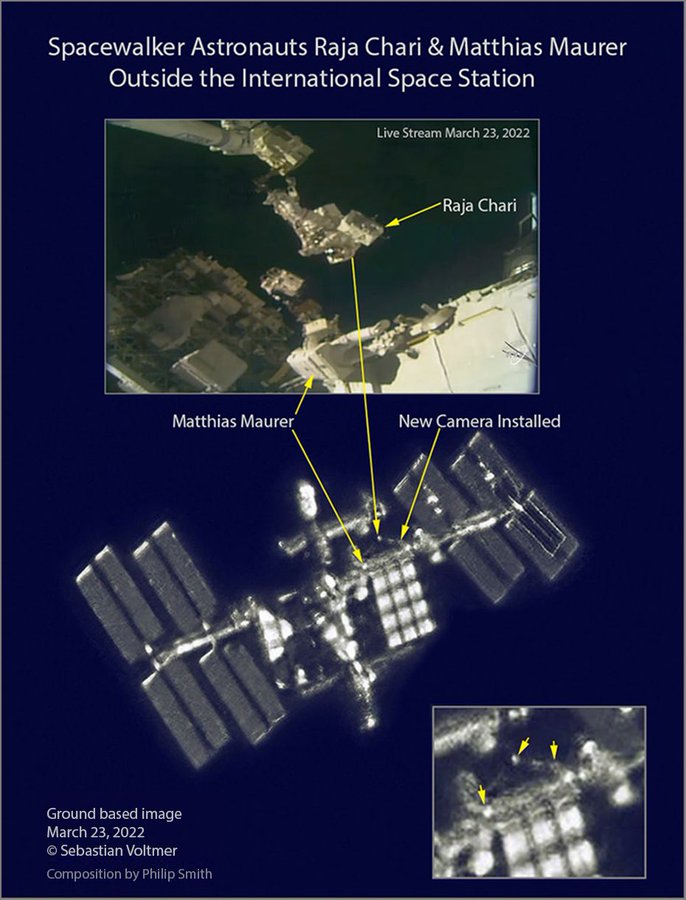 As per the article, Voltmer originally uploaded an early shot for the German press, noting where Maurer landed on the ISS. He stated that he immediately uploaded that edition on the internet, which made headlines, while constantly working on the final visual edition with both featured astronauts. "It's likely the first ground-based image of two spacewalkers on the ISS at the same time," Voltmer remarked.