The world is definitely moving fast towards sustainability and incorporating green principles in everyday operations. It is a good thing as our planet is heading towards global warming and terrible climate changes. Amidst all this, a designer has taken sustainability and green commute to a whole new level. a bike is designed that is electric and made of wood. This is probably the most sustainable and green design in commuting so far.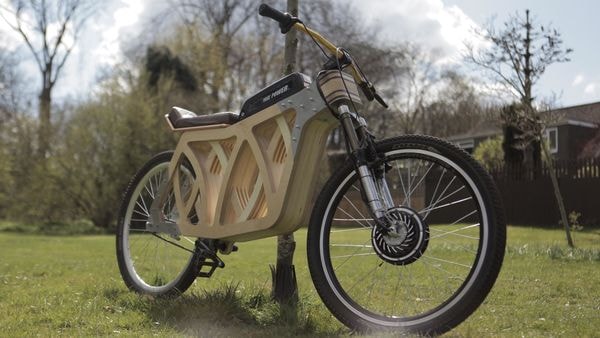 The bike is called Electraply and is almost made entirely of plywood. It is said that it can reach a speed of about 28 mph. Evie Bee is the contemporary designer who brought this to life. The main focus behind this project was to amalgamate the conventional and traditional techniques of creating objects with advanced and present-day manufacturing styles. She wanted to step out of her comfort zone and try something unique. Moreover, the design was inspired by her wish to ride her own electric bike.
Evie's design is based on the Yamaha SR 250 Scrambler because it is the most popular model when it comes to scrambler bikes. CNC machines were used to mill the plywood and the steel was cut with the help of a plasma cutter. Altogether, the weight of the bike is 30 kg. In order to have the weight down, poplar plywood was used in the making of the central frame. The outer frame is made up of birch plywood to provide strength to the model.
When it comes to powering the model, it has a 26″ smart pie front-wheel motor and a 36v 12.5ah Yose power battery. The scrambler bikes have their gas tanks exposed and since the design is inspired by them, the battery is exposed as well. She has used V-brakes for the bike but with more budget, she intends to change them with a better option. Evie has started a Kickstarter campaign for the Electraply, and you can submit your email to be notified of the availability as well.