A big fan of Batman seems to be in town, and they have converted an apartment which is located in Manchester into an all-black color. This news has been walking the beat on different social media platforms as it is unique yet a fascinating experience for people. The building is actually an ancient one, dating back to 1920 when it was just a warehouse, and today it has been transformed into a coal-black cube-like apartment. Talking further about the apartment size and dimensions, it is a 990 sq. ft (92 sq. m) house having two bedrooms, a bath, a dining room, an open kitchen, and a terrace. But there's a touch of gold and grey, for example, a gold touch on the switchboards and grey on the floor mats which makes the black look more eloquent.
"The apartment is not something you come across every day, especially in the heart of Manchester," says real estate broker Spencer McLeod. This apartment is one-of-a-kind in terms of space, layout, and décor, and it is inspired by Gotham City from the classic Batman films. You can easily tell that the owner has paid close attention to every element of the unit." "The Northern Quarter is the ideal location in the city center," he continues, "with its eccentric eateries, pubs, and legendary coffee shops." If you're a young professional searching for a sexy pad in the heart of the city, this is a good option."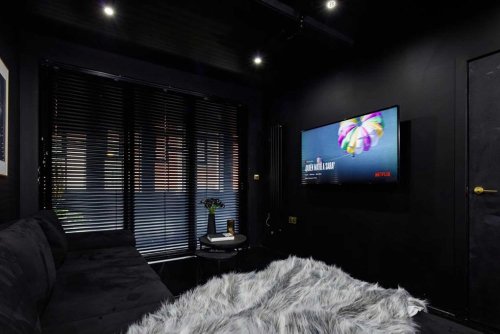 However, this apartment is a bit pricey on the dear side i.e., £400,000, but all the detailing and its exquisite location make it worthy of the price. But some critiques have argued that it's not suitable for everyday living due to its all-black color. This is due to the fact that all of the light is attracted or absorbed by the black color and is transformed into heat which may result in increasing temperatures in the apartment. But who cares about these facts when you are obsessed with Batman's Gotham City!