Boris Johnson, the Prime Minister of the United Kingdom, has stated that new laws would be presented mandating all newly built properties in the United Kingdom to have electric car charging ports by May 2022. The new measure is expected to be another component of the present government's goal to cut emissions and position itself as a global leader in environmental concerns.
"We will require new homes and buildings to have EV charging points – with another 145,000 charging points to be installed thanks to these regulations", said Boris Johnson at the Confederation of British Industry (CBI) annual conference.
"We are investing in new projects to turn wind power into hydrogen, and our net-zero strategy is expected to trigger about £90 billion of private sector investment, driving the creation of high wage high skilled jobs as part of our mission to unite and level up across the country," he added.
The new bill calls for 145,000 new charge stations to the network per year. The state has already allocated cash for 250,000 home and office chargers and £350 million in funding for the electrification of UK automobiles and supply networks. Another £620 million will be allocated on EV infrastructure and incentives.
The plan to expand charging stations comes as the UK works to construct the infrastructure required to reach its goal of halting the sale of new gasoline vehicles by 2030. All new cars and vans will be expected to have zero emissions by 2035.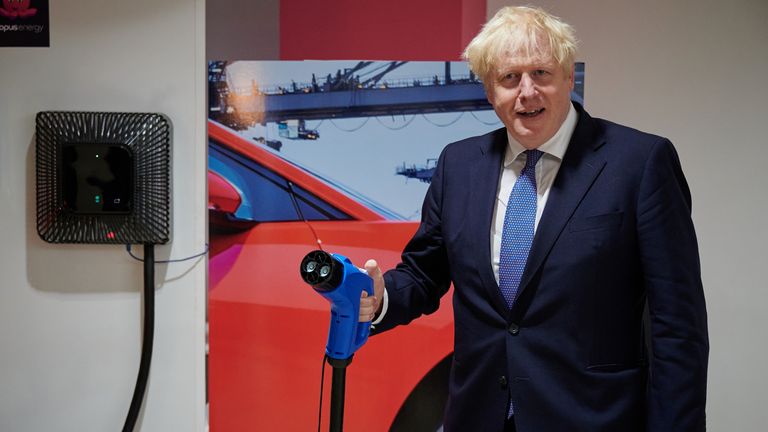 Range concerns, which allude to the assumption that electric vehicles cannot travel long distances without losing power and becoming stranded, will require reliable charging options.
Furthermore, many are concerned that this new program is but a spit in the sea when it comes to meeting a "zero-emission" country by 2050.
"Flexible charging at home and work during the day is going to be crucial to decarbonising… as will electric heating and solar power on 13.5 million homes. We hope to see these as part of the plans for new homes, too," Nigel Pockington, CEO of Good Energy, said.
"The government is failing Britain's automotive companies and workers. Rather than step up to support the car industry in the global race for green technologies, ministers have stepped back and left manufacturers, workers and the public on their own, failing to take action necessary to make the switch affordable for families hit by a cost-of-living crisis," Former climate change secretary Ed Miliband also voiced concerns, said.
Government ministers have also expressed worries that increasing demand for the electrical system might result in blackouts.
Despite these reservations, the government remains committed to its new bill. It has created EV8 Move, free software that aims to provide practical tools and advice to drivers transitioning to electric vehicles and calculate potential savings from switching from fossil fuel to an electric vehicle.
Adding a home electric car charger costs between £800 and £1000; however, partnering with the Office for Low Emission Vehicles can help you save money (OLEV). The organisation offers grants of up to £500 to help with installation costs.
Notwithstanding how people think about the new law, the UK Government and other major global powers have a relatively long time achieving the COP26 goals of zero carbon emissions by 2050, which might be a good start.