A Vietnam-era B-52H bomber has been called out of retirement. After the epic 1,400-mile, 19-day trip from Arizona to Oklahoma, the strategic heavy bomber—nicknamed "Damage Inc. II"—arrived at its destination Boeing facility near Tinker Air Force Base.
Boeing engineers will use the bomber as they map out the future of the B-52H Stratofortress, now in its 60th year of service.
The bomber will be: "serving as an integration model to test how well new technologies and current and future modifications will integrate with B-52 aircraft," and "supporting structural integrity research for the B-52H Aircraft Structural Integrity Program, or ASIP," according to a January 22 press release from the 72nd Air Base Wing Public Affairs office at Tinker Air Force Base.
The Air Force has a fleet of 76 B-52H heavy strategic bombers. The big, lumbering, eight-engine bombers are still in service and have served in most major U.S. military conflicts since the end of the Cold War.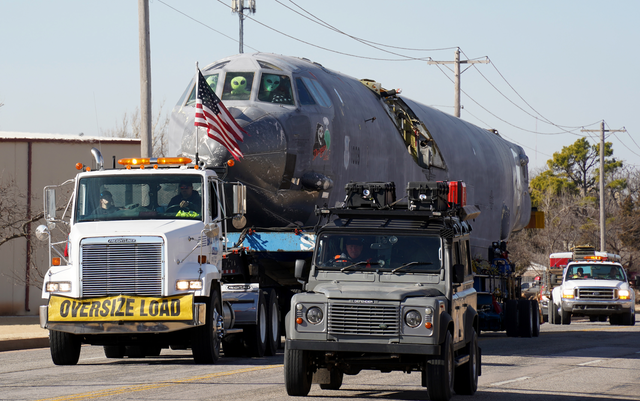 The bomber in question, tail code 61-0009, was built in 1961. It served with the 96th Bomb Squadron, Barksdale Air Force Base. Even today, the bomber has a map of Louisiana painted behind the cockpit.
61-0009 was made to retire in the 2000s. Afterward, it was sent to the 309th Aerospace Maintenance and Generation Group (AMARG) at Davis-Monthan Air Force Base in Arizona. Commonly known as "The Boneyard," AMARG is the place where retired aircraft are placed.
The aircraft was sent to the Pima Air & Space Museum, where its wings and horizontal stabilizer were removed from the fuselage. The fuselage was then transported to the new Boeing Hi-Bay facility located at the Boeing Campus in Oklahoma City, Oklahoma in 19 days. it is said that the right-wing and stabilizer will go to McFarland Research and Development in Wichita, Kansas, "to support structural integrity research for the B-52H Aircraft Structural Integrity Programme."
The B-52 is a Boeing jet, and in September 2021, the Air Force picked Rolls-Royce to upgrade the old plane with new engines. There is even a chance that some B-52s will fly for 100 years.